Price moderation and a sales slowdown are likely over the coming months but should be considered in the context of economic history, the frenzied post-pandemic market and the longer-term outlook.
The market in context
The Autumn Statement provided a sobering assessment of the UK economy, but forecasts for the housing market are less dramatic than during 1989–1993 and the Global Financial Crisis in 2007/8. Inflation is expected to peak during the final quarter of 2022 before falling back over the course of 2023, and unemployment looks likely to remain lower than the 10-year average (5.3%). The Global Financial Crisis, caused by banks lending more than borrowers could afford to pay, led to the more stringent mortgage lending criteria imposed since 2014. Today, only an estimated 4.2% of homeowners have less than 10% equity in their home.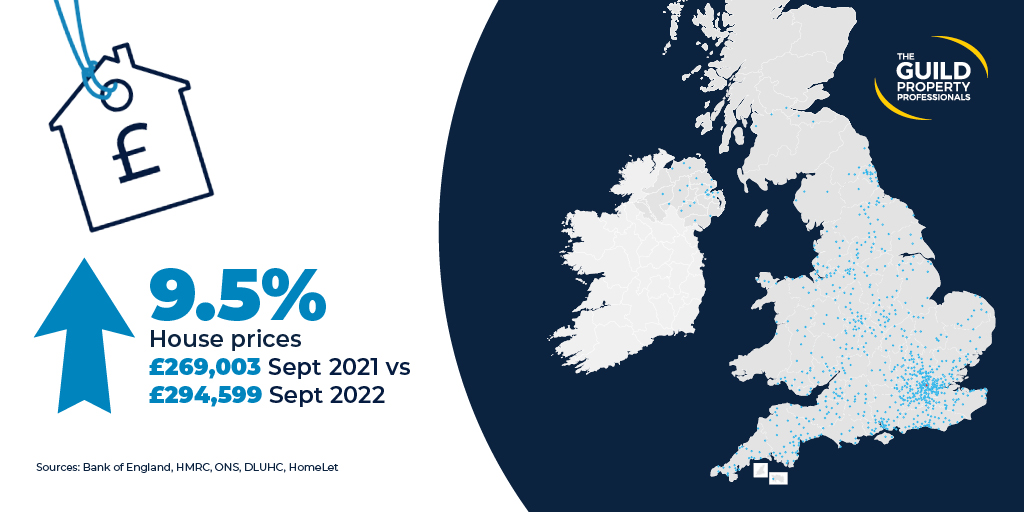 Price correction
Property price growth is moderating and price correction is forecast. At 7.2% in the year to October, annual price growth remains considerably stronger than the 3.3% average between 2010 and 2019. Since June 2020, average property prices have risen by close to £50,000, the equivalent of 24%, with lockdown and lifestyle changes spurring the market. Single-digit price correction is predicted for 2023/2024 before price growth is anticipated to return in 2025. Buyers will continue to benefit from the 0% rate of stamp duty up to £250,000 until March 2025. With almost one in three movers 'needs-based', such buyers will present sales opportunities.
Rises and cuts
The Autumn Statement confirmed a raft of spending cuts across Whitehall and tax rises through changes and freezes to tax thresholds. At 5.7% in the year to September, wage growth is at its fastest in over 20 years, but the conflict in Ukraine continues to impact energy costs and food prices, and a package of measures remains to support the most vulnerable. Expectations for interest rates, gilts and swap rates are up to 1% better than in the immediate aftermath of the 'Growth Plan', although mortgage rates of 5% to 6% will be usual for those seeking to purchase or remortgage.
Lettings
Demand for quality rental housing continues across the UK. A shortage of stock and additional demand from prospective buyers, who may well rent in the short term as opposed to buy, continues to fuel prices. Average rents in the UK rose again in October to £1,171. Excluding London, average monthly rents now stand at £976. Annual rental growth in Scotland has doubled in the past year, with emergency legislation passed by the Scottish Government to freeze rents and evictions for both the private and social rented sectors until at least 21 March 2023.