UK house price growth flatlined in September with a stronger slowdown expected in the coming months as a combination of soaring inflation and mortgage rates makes moving unaffordable for many.
The latest snapshot from the building society Nationwide comes at the end of a torrid week for the housing industry as lenders pulled 40% of available mortgages from the market after Kwasi Kwarteng's mini-budget last Friday.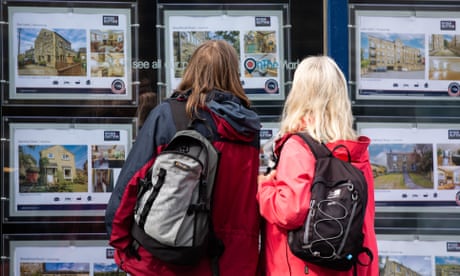 Lenders began suspending products after the chancellor's sweeping tax-cutting plans triggered a sell-off in financial markets and raised expectations for higher interest rates. The volatility made it increasingly difficult for lenders to price deals.
A typical UK home cost £272,259 in September, a zero increase on the previous month and the first time house prices did not grow month on month since July last year, according to Nationwide.
Annual growth in prices dipped to 9.5% this month, the first time house price growth has slowed to single digits since last October.
Overall, 10 of the UK's 13 regions recorded slower annual price growth in the third quarter of the year as the housing market cools. The only regions to show an increase in annual house prices in September were the east Midlands, West Midlands and London.
"Headwinds are growing stronger, suggesting the market will slow further in the months ahead," said Robert Gardner, Nationwide's chief economist. "High inflation is exerting significant pressure on household budgets, with consumer confidence declining to all-time lows. Housing affordability is becoming more stretched."
Gardner said that a 10% deposit on a typical first-time buyer property is now equivalent to almost 60% of annual gross earnings – an all-time high.
Some commentators are expecting UK house prices could fall by at least 10% next year as the economy sinks into recession and mortgage rates rise sharply, making house moves unaffordable for many.